This is Malaysia. Pangkor Island, to be precise, about two thirds of the way up the west coast, south of Penang and north of KL. It takes an hour and a half to fly from Singapore to Ipoh, then the same distance by road to Lumut where, finally, we board a ferry for the half-hour chug to Pangkor's palmy shores, cooling sea breezes, soft sands and warm waters.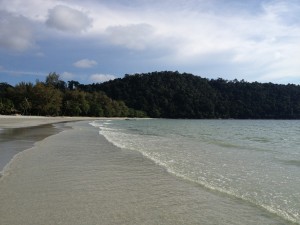 We first came here eleven years ago, the two of us, choosing to stay in a resort that is closed off from the rest of the island. If you wish to explore you can take a pink cab round the winding roads to look at the temple, Dutch fort, fishing village and other more colourful beaches, before slipping back through the gate again and lying down in the shade.
Second time round we brought our small son, then three, who loved skipping along the shoreline scuttling after crabs. Last Christmas we were back in Pangkor again, this time with my sister and our two dads staying a few beaches down. And now, fourth time lucky and for October half term, we are back at the resort, looking for calm after weeks of frazzled 'settling'. The place soon does the trick, unwinding us in that oiled-massage, easy living sort of a way that these kinds of places do so well. This is our tropical idyll, perhaps not representative of the 'real' Malaysia but a place we adore all the same.
The real Malaysia, I suspect, was what we saw in glimpses through the window of the cab that dashed us to the dock from a two-day stay with our aunt in Ipoh. Dusty shacks down tracks off-road, tin roof eateries with stacked plastic chairs, electrical and tyre shops closed for Sunday, half-built malls, rubble piling up with the unused brick stacks, short fat palms like the ones in Where The Wild Things Are, grown for oil in military rows through which more huddled shacks squat, blue-fronted mosques with faded bronze domes, stringy durian stalls, baked car lots, Chinese cemeteries with lines of curved brick shrines, and miles and miles of dust.
All of which you might call charming – one hundred characterful photo opps ticker-taping by in a heat haze as our driver navigated the trucks and vans en route to the jetty. But we didn't pull over to take shots as my mother might have done. We headed straight to the pier, got a ferry right to the hotel and arrived in the cool beachfront lobby where SmallMonkey span about like a mechanical beetle, overwhelmed with the contrasting luxury after our dusty Ipoh stop-over.
In a sense we are keeping family tradition alive by coming back here, to a resort that has been around for years. Once known as the Golden Sands, the hotel's retro name has faded along with the beachy picnic snaps in my father-in-law's cracked family album back in the UK. When they lived in Ipoh they came here all the time, popping over for weekends and once, so the story goes, getting shipwrecked during a boat trip. I can't imagine a better place for a Swallows and Amazons adventure although I know my mother-in-law was mortified about them not being married at the time (I do wonder, sometimes, whether someone hadn't tweaked the engine).
I love it here just as much as they did, love the two pools, the beach just a flip-flop away, the tufty green outcrops at the end of the headland with the big round boulders and the endless milky horizon puddling into the distance under eagle filled skies. This is our fourth visit to Pangkor, third to the resort, and it may not be the real Malaysia but still you can pretend to be adventurous, hiring a kayak by the hour and skirting the jellyfish before they die and dot the shoreline like discarded jellies from the dinner trolley. In no time I have acclimatised, floating in the sea, oiled and flat and flipping over with the little fishes that have escaped from the nets of the wooden boats bobbing by.
Next I assume the position on a sun lounger for five days of heavy reading, reaching out now and then for a satay stick or beer. I excuse myself from any soft tourist guilt safe in the knowledge that in a few weeks I'll be back up-country seeing the real Malaysia from our aunt's concrete forecourt, searching for sleep in the heat-stuffed back bedroom or sitting out a midnight storm in front of the flickering telly, waiting in companionable silence with our aunt under a stern picture of great Grandma, enjoying the sense of family her house gives us for two brief nights.
For now, then, I indulge, and when the time comes to tug our bags back onto the ferry it is hard, and not just because my muscles have begun to melt into my fat stores. It is strange to think that this time our return trip will not be a journey halfway round the world but instead a short hop down south, and what's most tricky is answering our son's question 'are we going home?' After a short beat he provides the prompt himself – not London, he says, not Singapore. Just, you know, back to 'normal'? It is a good question but one I cannot answer. This quick trip has given us time to stop and reflect, a relaxed platform on which to look back over the last two chaotic months and come to the same conclusion, all three of us – that at this stage in our South-east Asian journey, none of us has a clue where home is any more.