Just four years ago, the idea of taking a cab in Sing held less thought for us than it does now. Now I have to think twice before ordering – do I really need one? How near is the MRT? I won't melt in the rain. I could probably walk it. It's not accurate these days to say that cabs in Singapore are cheap, because with the advent of online taxi apps the market is volatile. But this morning's Grabcab was a good price and it was also quick to arrive, which was a good thing because this was a cab ordered by me but not FOR me, a cab for Jonah to get him home fast after a sleepover at a friend's. I had to call the friend to get her to warn Jonah and load up his iPhone so he could text me along the way, as we'd not tried this before.
This business of putting kids in cabs is normal here, a very expat thing, veeery Sing-ish. If you don't have a car, can't wait for a bus, need to be two places at once, then a cab is often the answer. You can track the route and delivery is straight to your door. To pick up this morning from the friend's house would have involved me taking two buses there and two back, one hour each way, and all before 09:30am Much easier, said bossy Mr PC (completely springing the idea on me) for him to come back on his own. 'Everyone does it,' he said, 'and he already goes to scouts alone by local bus on Mondays.' But scouts is near by, and the local buses are so reliable and… and…
Silly to be worried. At the same age I was going to school on the bus on my own (walking a 10-minute hike at the other end), popping into Covent Garden by tube to see the buskers, down to Camden to buy neon nail polish in the market, crossing the Heath on foot to visit friends on the other side – and not an adult in sight. And no cellphone either. Of course it was all rainbow jumpers and unicorns back then and it's a different world now. All the same he needs to start learning, and what better place than in super-safe Singapore?
Jonah got into the cab looking worried, said the friend's mum. After all, we hadn't planned this or talked it through. 'You should probably give him a call,' she said. Thanks to iPhones I kept up a chat exchange the whole way home, in fact I stalked the route from there to here (panicking slightly when the app froze for a while). Ridiculous – the most non-independent mission, in fact positively pampered, but a step in the right direction for sure. Next stop, MRT to VivoCity and meet him at the cinema lobby.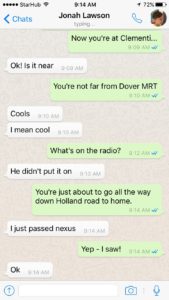 Save
Save
Save
Save
Save
Save
Save
Save
Save
Save
Save