It's half term in Singapore, so we go to China, happy to tick off another Asian must-see. We fling ourselves from Beijing to Shanghai through five cities over nine days. It's only five hours to the north and on the same timescale, so we reckon it will work out well. By the time we get back home we are completely ragged, but we have seen such amazing sights. Some people hate travel that's too quick, but we prefer to just take what we can get. If it can only be done in that amount of time, well then let's do it, and soak up every bonkers hour. So that's what we do.

AIR
It is parky and crisp in Beijing, breath-fogging and extra-blanket chilly. It gets warmer as we head south, with bright blue skies for the Wall and a positively humid last afternoon in Shanghai. When we pull into Xian rail station on the train, I can smell burning rubber, and it's not from our wheels. It's foggy here, but that's not cloud, it's haze. Our tour guide tells us people pay more to live out in the suburbs than in town, the other way round to 'normal'. But then on a car ride into the surrounding countryside to see the Warriors, there are giant smoke stacks belching out coal dust, so I don't really get it. Pack a mask.
BIKES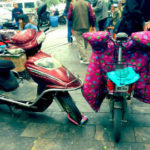 'There are nine million bicycles in Beijing" croons Katie Melua, very annoyingly in my head the whole time I am in this city. I don't actually know about that but there certainly are lots of bikes here, and mopeds, and rickshaws. Unlike in Vietnam, where you're told that it's fine to step out into the street because the bikes will simply move around you, the idea here is to STOPFORTHELOVEOFGOD because the bikes won't stop. There are special bike lanes and no one bothers with green 'walk' lights and the lanes are also used by tuk-tuks and dust carts, so you'd better always look both ways. Because it is cold, the moped riders wear huge body-shaped blankets, torso duvets that fit over person + bike. I wonder how they steer but they do. Right at me.
CABS
What? Where? Ah, there. Going right past us, green light and all. Mr PC finally gets one by standing right in the road, and about time too. We are now precisely one hour late for a meeting with friends who live just outside Shanghai. If you know me you'll know that I don't really 'do' late. Thanks taxis, blood pressure nicely raised for our last night in China. On the way back we take the metro – smooth, easy and much less stressful.
CROWDS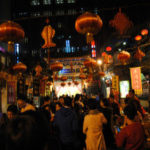 Not until you step foot in this land do you realise why China calls itself 中国 – 'Zhongguo', or 'middle nation', or 'centre of civilisation'. If your country was this enormous, you would also name it so. China is all about scale and everything is a superlative: biggest, strongest, widest, longest, and fullest. We begin to expect crowds, jostles at the elbow, pushing. With a country this big some residents might never leave, and those who travel might journey only within the country's borders – so our tour guides tell us, anyway. And this explains why, at every tourist attraction, there are not only lots of people from other countries (like us) but also lots of tourists from within China itself. As well getting used to the crowds we also become accustomed to being points of interest – it's not just the museum artifacts that everyone's looking at. We become used to the open-starers who nudge each other as we pass and crane for a better view, because we know it is simply that many have never before been so close to such big-nosed, pink-skinned, cheese-scented families. Anyway, aren't we staring right back? Perhaps a bit. Pot kettle black.
DRAGON, LION, PHOENIX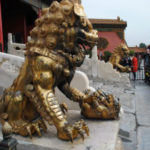 Dragon is king, phoenix is queen, lion guards your house. This dragon has three claws so he belongs to a family, not an emperor. This dragon's long back becomes the wall for the building. This lion has closed ears and that means he must not hear. He is bright gold, a colour close to the royal emperor's yellow, so he must be very special. That lion is standing on a baby; she is a mother lion. My sign, rooster, is actually phoenix, which is nice, and those bamboo plants by the river are phoenix-tailed bamboo. By Day 9 we are exhausted but we can spot a dragon, phoenix or lion from a mile off. I knew a bit about all this before we came out, thanks to tour guiding, but it was amazing to see it all pan out before us in technicolour. Don't ask me about the qilin, crane or bat, or we will be here for a long time.
FOOD – 'Sauce explodes the dry flounder'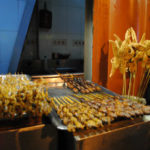 Belt noodles, juicy slices of duck, hits of sweet and sour, crispy steamed greens, soft potatoes in colourful sauces, chilli heat that prickles on the tongue. Food in China is universally splendid. It is all the foods you've always found on a good Chinese menu but fuller, richer, purer. We eat in good places but the few snacky foods we try are also fine and there is only one bad meal, chiefly because of the mean content – chicken hotpot was more like a bowl of claw and bones and no meat. We declined stuff on sticks, like the live skewered soon-to-be-fried scorpions (wriggling), the huge whole deep-fried crabs, seahorses and star fish. Also donkey. The mistranslation of the title above is not to be tittered over. That's what the menu promised, so maybe the flounder did need a sauce explosion, who knows? Chinese is a practical language and the meaning is usually straightforward. Next time we'll try the flounder and find out for ourselves.
FORBIDDEN CITY & TIANAMEN SQUARE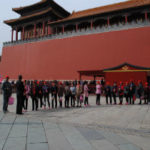 We enjoy taking pics of the standing soldiers and endless tourist groups following high flags across the vast grey concourse of the Square. In the security queue a soldier screams at a local tourist to get back in line, it's all a bit like Oxford Circus tube at Christmas. Yet, nothing prepares us for the size of the Forbidden City. "Do you think this one is the main gate?" teases our guide every time we go through another grand entrance. After a while it becomes clear that the Emperor would definitely not have walked anywhere, not even to work off the biggest congee breakfast. This enormous complex with its yellow and red tiled roofs is a big one for me: splendid, massive and stately, a city within a city. But I'm happy that, unlike the concubines who sat around the gardens all day writing poetry, painting and hoping to visit the Emperor, I am allowed to leave.
JINGHSAN PARK
We stumble across this massive Beijing park on day one, just arrived in China and already turned loose from our tour guide. It is freezing and we are not prepared, so we walk to keep warm. Jonah spots the park on a map and decides this will be a good place to try some bottle-throwing (yawn, don't ask). It is a hilly park full of big boulder rocks (from the building of the city moat, apparently) and we climb up and up until we get to a big pagoda at the top that is thronged with crowds taking pictures. We have timed this perfectly, as it is sunset, and what people are taking pictures of is the sun setting over the Forbidden City, It is magical, the perfect place for a family who has flown through the night, had no sleep, then walked two miles in a chilly daze. The next day, when we tour the Forbidden City, we see snappers in the distance, tiny ants taking daytime pics of the very same view.
GREAT WALL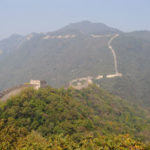 Someone on Tripadvisor writes that the Great Wall is simply this: truly great. I can't agree more. It is a wonder, a work of majesty, on an awesome scale, and if by some lucky miracle you get the chance to go, you just have to. The first glimpse from ground level is heart-stopping – and it is at this point that if you're scared of heights (like me) you'll start to go all clammy. Since no one has mentioned the height thing I do my own homework, because surely if this wall is on a mountain then it's probably going to be high. I'm therefore pre-warned, and not hugely surprised when I step off the evil cable car (almost vertical) and into the clouds. I'm not sure about it at first, especially when I gaze over to the left and see an insanely steep section going straight up like a stairway to heaven. Ah yes, says our guide, that is not a nice section, but luckily we are heading to the right. I do need a hand getting down the first steep flight because all around me is air, nothing else, but we press on and it's so gorgeous and so much fun, and the weather is so lovely (coats off!) that soon we're all scampering along. It's not all about heights, there is history and storytelling in those bricks and we get a good idea of the building of the thing as we go, lucky to have a good guide accompany us. The route takes us mainly down-steps, with a few upward sections, and at times we have the place almost to ourselves. After strolling for 2.5km and passing through eight watchtowers, I have found my stride yet still decline the crazy toboggan ride back down to ground level. I opt instead to pop happily onto a ski lift with our guide and enjoy (I'm either cured or delirious with excitement) the gentle swing downhill, craning to spot my two boys bombing far beneath us on plastic sledges. Nutters.
HOTELS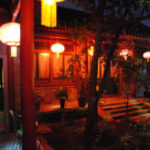 A mixed bag, but on the whole good. One is down a hutong, totally Chinese, with a big mahogany bed and red lanterns everywhere, authentically wobbly doors and utterly freezing. Another has a nightly waterfall cascading down the front – the city square fills nightly with people to watch. Another has a breakfast room that smells of vomit and the last one has an impressive front but a back that looks out onto Shanghai slums. A tour that shows us every single side to the story.
HUTONGS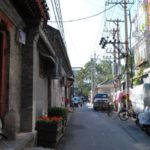 First built by Mongolians, says our guide (verified by Wikipedia), these are villages within cities like Beijing, once densely populated and now being torn down and built over. There are pockets still remaining, narrow alleys with grey walls giving way to tiny houses. Some are now dusty offices, some are shops, some are hotels (we stayed in one) and some are still dwellings. We thought Beijing had a really generous attitude to public toilets until we realised that these communal conveniences – dotted about everywhere – were used by hutong-dwellers who don't actually have their own bathrooms, and there are many. We saw an old lady shepherding a little girl out of one down an alley one night, a tiny thing skipping along in her PJs with granny chivvying from behind all the way home to bed. Cosy.
MANDARIN
We try, OK? From day one on our own in a hutong restaurant, and on through every shop, eatery, museum, we give it a go. The longest sentence I manage is: 'My husband is over there' (it comes out as 'our husband is here' but the person understands). As with all countries the point is to try, and you need a few scattered words and the rest can be done with hand gestures. After 2.5 years of learning Mandarin, we are a bit sad to not manage long sentences, but also a little bit thrilled to have got to the point of being able to say anything at all.
PEARL TOWER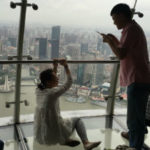 I like a bit of warning before a proper crowd crush, especially when it's our penultimate day in China and I'm tired and possibly a bit cranky. So taking me straight off a flight and shoving me into a 45-minute queue, then a squished lift and up several hundred feet to tip me out at the top of an equally crowded viewing room that's far too high without really bothering to explain what is going on is not going to put me in the best mood. Poor tour guide, we don't get off to a great start. Luckily, the sight of Mr PC and Jonah edging onto the glass-bottomed ledge then running back off again cheers me right up. And no, of course I didn't try it. I'm not THAT cured.
RIVER LI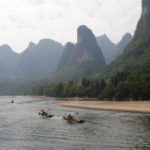 You know those big pointy mountains that you see on touristy black-ink pictures whenever the word 'China' needs to be illustrated? Usually with a big river running along under the misty skyline? Well this is what we actually see on our boat trip from Guilin to Yangshuo. River Li, you are beautiful, totally gorgeous, and so are your mountains and your green banks of fluffy phoenix bamboo and your clear, bubbling waters. It is busy, yes, with a whole chain of pleasure boats like ours chugging along the otherwise peaceful waters. Still there are places where you can only see bamboo boats, water buffalo taking a dip, farmers on the banks. It is really stunning and the whole time I think of a trip that the folks did a few years ago, apparently just as gorgeous. The trip takes five hours thanks to shallow dry season waters. I'm happy to get off in Yangshuo, where we cycle down a few country lanes with those needle mountains towering above. I'd be equally happy to return the next day and do it again.
SNOT
Day 9, our last day, and our last lunch, and Jonah is restless, tutting and sulking, but I have travel exhaustion and can't deal with it. Only when he pushes his plate away and growls out: 'Why do they have to keep DOING that?!' do we realise that someone is routinely hacking snotballs a few chairs away and it's putting him right off his beef cubes. Mr PC and I seem to have become completely impervious to the sound. This is a noise that's totally commonplace here, though younger nationals with western educations agree it's about time the habit is outruled. In the end it's not until a meeting with some expat English friends that we find out quite how equally disgusting we are to the locals, many of whom think that the habit of sniffing our nasal waste into tissues is worse. No, I don't buy it either, especially not when scaling the stone steps of Xian's city walls and brushing past a huge gob of drool hanging off the railings. Bacteria anyone?
TERRACOTTA WARRIORS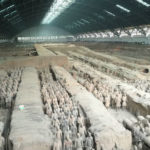 As my friend, who visited not long before us, said: there are no words, and she's not wrong. But this is a blog and so I must find some. Crowds make it very hard to understand what we are about to see as they throng the narrow entrance to the great hall, clogging up the viewing railings until a space suddenly clears, and then there it is. Or rather, there they are. Lines and lines of real, actual, proper, original stone soldiers, standing alongside horses, hands curled to hold imaginary wooden sabres and horse reins, long since crumbled and leaving the men holding nothing but air. They are beautiful and the scale is simply overwhelming, and after this is another shed housing warriors being patched up, and after that is another one with more horses, and then there is one with exciting looking mounds not yet dug up, the promise of yet more discoveries to be made. Our guide says this is a carrot-on-a-stick method of stringing out the discoveries so that people like Jonah come back in 20 years to see new warriors and spend more money. But we're suckers for a bit of history and we totally buy into the whole setup, happy to be steered into the shop to spend money in a haze of feelgood warrior wonderment. Our three tiny soldiers now stand on the bookshelf, spotlit, and a bronze dragon is on our piano, claws poised to bash out a sonata.
Note: My father reminds me of something that I can't believe I forgot to mention. Only in China can you then actually meet the man who discovered the things. On the way in he is parked in a bookshop ready to sign copies and pose for pics for a price. We decline politely, no matter how awestruck. And then we see the Warriors. On the way out we head back to the shop, take the picture, get the signature, buy the book. Insane.
TOUR COMPANY
We've done tours twice before – both times short trips with the same family as company. When it came to booking China I remembered how useful it had been, if time-poor, to have all that admin taken care of, so we booked with a well-known group and as a result had a different experience from our normal trips, but a very good one. From Arrivals in Beijing to Departures in Shanghai, we are met at each place by friendly guides and delivered to our hotel, taken around town, marched up and down walls and in and out of museums, urged through crowds to see Warriors, taken to lunch and, most importantly, treated to endless stories about the history and culture of China. The four tour guides – one for each city – wear their own clothes and have their own approach to the job and their own versions of the myths and legends. They vary in attitude, age, and usefulness, but are on the whole very good. It's not for everyone, this tour thing, and I doubt we'll do it again, but we definitely recommend the one we used. One guy uses his Subway loyalty card to get our van to the top car park at the Great Wall. Another bargains for a better bike for Jonah when we cycle through Yangshuo. One tells amazing tales of long-ago dragon ladies, and another discounts all those stories and instead talks about the current way of life in city and town, which to be honest is just as interesting. By Day 5 I have hit an information wall but I get my mojo back next day when the scenery changes. That's the thing with dashing about – always another day around the corner.
TRAINS – 'Welcome aboard the multiple unit'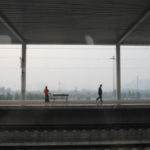 This is the voiceover delivered silkily every time we pull out of one of the 12 train stations between Beijing and Xian. In Beijing West station there are hints of Japan about the pointy bullet trains waiting nose-forward beside the enormous platforms, and also a certain organised code for the way it all works: station buzzer goes to signal boarding, neatly uniformed assistants help you board and get your bags sorted (nothing heavy on overhead racks please), and then patrol the aisles every now and then. From sunset and on through the night we whizz silently across 1000km at 300km per hour, a slight leaning shake the only clue as to speed. First Class cannot have given us a normal impression, but we do have fun sinking into the squishy red-velveteen seats, cracking open our funky snack boxes (plain bun, dry cracker, tiny bag of dried peas), signalling 'more please' to endless freeflow hot green tea from a huge iron kettle. The train stops at ghost towns, dark empty cities with skyscrapers trimmed in neon. I only wish I could try out all of the multiple units from here to Tibet.
XIAN CITY WALL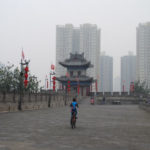 Hire a bike and go round the top of Xian's old city walls – all 13k of it. They say this is a great way of seeing the city but in fact you can't see a lot. One side of the wall is too high, and the rest of the time you're trying not to fall off or hit pedestrian tourists. It's cobbled and there are ramps here and there. But it's so much fun! Here we spot beautiful azure-winged magpies for the first time, powder blue and very fast. I don't know exactly what type until I get back to Singapore, and emails, and message Dad. He says they're only found in Spain, Portugal and China. Doubly lucky for us to catch a glimpse.
ONE MORE THING…
In 1994 I was obsessed with a TV documentary by a man called Phil Agland, Beyond The Clouds. Cameras had been allowed deep into rural China to film in a small town called Lijiang. The town is now a major tourist destination, but back then it was the China of olde, and cameras followed the doctor, police units, teacher and a handful of other characters as they went about their business. I was transfixed, longing to hear the haunting whistled theme tune each week and see what the locals were getting up to in their smoky, cobbled town. When planning our China trip this year, the documentary came back into my head so I tracked down a couple of episodes on YouTube and also found the makers on Twitter. They have been working on a new one, I am happy to say, and how eerie that they should let me know as I cruised the River Li. I didn't see the message until I got back to Singapore: quite the best homecoming gift ever.
Save
Save
Save
Save
Save
Save
Save
Save
Save
Save
Save
Save
Save
Save
Save
Save
Save
Save
Save
Save
Save
Save
Save
Save
Save
Save
Save
Save
Save
Save
Save