Today, one third of the PC household returns to the UK to pick up his new role, galloping into Heathrow just in time for St George's Day and his Dad's 79th birthday in Marlow. First he'll have lunch and birthday cake with the cousins then he'll drive to London and camp out at my sister's for the next few weeks. He starts work on Monday. As for leaving Sing, for a man of modest gestures I've never seen so many goodbyes locked into the calendar. He had a football farewell on Wednesday for the weekly group he's been running – that was a tough one. In a fortnight he'll be back here briefly and no doubt there'll be more goodbyes. And back again in June to co-host a proper leaving do with me and repeat the beer theme once more. The multi-celebration thing is unusual for a man who's typically quite low-key, but I suspect it's testament to how hard it is for him to leave the town he has so enjoyed exploring, and all the friends within.
Mr PC is a man who's rarely sad. He goes through life using the same Terminal Optimism as my Dad, constantly carrying around a half-full pint glass in contrast to my half-empty water bottle. (Does that make us well matched? It certainly makes him very patient). A person who knows him better, though, might have detected clouds across the moon these last few weeks, even during our recent fantastic canter across beautiful NZ, when, at times, my permanently happy man might have sometimes been less so.
Repatriation was never going to be easy for any of us, most of all him. Like most families we try to make decisions as a solid unit, but sometimes one person is less comfortable with a decision than the others. Just as you could say it was his idea that we came here in the first place, it was mainly me who came up with the idea that we pack it all in and head back to Blighty. Worse still, while we wait under softly swaying palms for TheEnd, drifting back and forth to work and school with the sun on our backs, he has to dump his carry-on and head straight to the Tube under chilly London skies*.
Still though, every cloud and all that. I'm hoping there will be plenty of you to welcome him home, maybe put on the kettle or pop open a beer. If you see him, he's pretty easy to take care of but he'll probably appreciate some Singaporean touches. He likes kopi o ping or kopi si kosong. He likes congee for breakfast, laksa for lunch and a big fish curry for dinner. He likes the heat, so turn up the radiators and hang a load of wet laundry inside so the place gets a bit humid. And as always he loves a spot of running, so if you feel like trotting up and down Kite Hill with him then give him a call.
As he paces the apartment looking for things, tying up loose ends, sending emails and printing out documents I'm sitting here looking at our Mandarin textbook collection, gathering dust on the shelf since we stopped lessons in January. His favourite word was always "husband". Mine was "goodbye" because it's the only one that comes to mind easily. So then: zaijian Xiansheng. Safe travels and see you in two short weeks. I'll keep beers in the fridge and kopi by the kettle and I promise not to chuck out your shoebox full of electrical cr@p or rearrange your precious pile of interesting pocket fluff. Hope the new school has a good canteen and nice teachers. I'm sure my sister wouldn't mind if you bought a plastic palm tree and stuck it in the window.
Here's your leaving anthem, a top choice from the Jonah playlist that we had on repeat in hire cars all around New Zealand. I think it fits.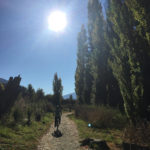 *I've got the packing, the goodnights, the homework and the exam-revising to do as well, so don't feel too bad for him