Don't even try and do all that stuff on your list – that's my first tip. Scrap half of it and play the rest by ear. We packed a lot into our seven-day half term, but we're optimistic like that, and we came home exhausted. Standard. There is a way of getting to see all those hotspots – and that is to hire someone to take you bumping over the top of the country. You'll end up seeing most of it from the back of a Prius Hybrid but you'll go home with a series of intense snapshot impressions:
Fairy lights draped around a bank
Cows in the middle of a football game
Smells and colours popping out: putrid rubbish, hot pink saris
In Galle, somebody tap-tapping on an old typewriter from the back of a shop (hi, Mum)
In Yala, fireflies on a night safari, and a bird flapping around in the back of our jeep
Tsnuami memorial by the train track where an entire train drowned
Big turtle playing in surf. Elephant's bottom disappearing in the darkness
Cheeky schoolkids asking for sweets at the rail station
Perilous-looking miniature ferris wheel powered by steam
Birds, birds, birds, curry, curry, curry, more pink saris
Roads
Just don't do it. Roads in SL are hell. If you're adventurous then take the train or bus – the former is cheap and wonderful but slightly chaotic, the latter is just chaotic. Otherwise, find yourself a good driver. Much better to have someone else threading you in and out of the clotted traffic, so all you have to do is sit back and relax, watching tuk tuks and buses come at you head on as you overtake on perilous mountain roads.
Drivers
We accidentally had two – the one I'd been talking to via email, who had insisted on also doing all our bookings and being our guide, only to suffer a diabetic slump a few days before we arrived (the email chain suddenly went quiet). All credit to him, he managed to organise a replacement for us, from his sick bed, but the first we knew of it was when we rocked up to the airport at 10.30pm to find that the man holding the sign didn't look at all like the man I'd seen in photos, being a whole foot shorter, with a slight afro. (It's quite funny now. It wasn't at the time. And I do realise that having diabetes isn't funny either)
In fact, Sunil turned out to be one of the nicest people I've ever met, straight up, a gentle hard worker with no less than three major careers on the go: music teacher, rice farmer, tour guide. Endlessly kind, thoughtful and funny. We'd got used to Sunil when our original guy, Gamini, arrived to take over, well recovered and wisely avoiding all our travel sweets. He was more fluent in English so he made a slightly better tour guide, but they both drove beautifully. Worth the dollars (and not a lot at that), these guys bust a gut to get you places. Sunil dropped us at a leaky mountain guest house in the dark, caught a few hours kip, then was on the 5.30am bus back home where he then had just two days to perfect his students' band music for the annual school sports meet.
Four days later, Gamini dropped us at the airport at 10.30pm then had to do a three-hour drive back home through night-time mountain roads. He'd sensibly planned the next week off, otherwise his next tour would have been directly after ours. Somehow they stay awake and do it all with a smile – well, the good ones do.
Safari
It's said that African safaris are better, but when you're 11 and spotting crocodiles from the back of a jeep, you're not really going to judge. You're also not going to care if there aren't any leopards because you've just seen bison having a bath, a family of elephants throwing mud around, huge peacocks, several funny diggy little mongoose (mongi?), jackals, massive monitors, and those crocodiles. Plus spotted deer.
Camping
Well, sort of. My family will do an amazed 'whoop' but then there'll be raised eyebrows when they hear that the tents were huts, and had a flushing toilet each. But, fairplay to fussy me, there was a proper need for the mossie nets and those we had were covered in holes, there was a dead cricket in the shower (yes alright there was a shower), a spider nesting above the toilet*, and no light once the generator went off (but yes, we had electric lights). But, you know, camping! Jonah love love love loved it until we noticed the beds were covered in beetles and flies at night (cue small boy horrified face and imaginary death music), but once the mossie nets were up that was sorted. Well, actually, no, it was only a little bit sorted but I'm not telling Jonah that, and none of us sleeps with our mouth open, so all good. Yes I would do it again. I'm just glad I didn't hear about the baby snake until we left, which is also just as we spotted a herd of bison wandering through the neighbouring field. THAT close.
Farms
I like my farms spread out over hills in swathes of green like a giant furry duvet (tea country, check), or dotted with happy cows (foothills, check), or fringed with lush waving rice tips (lowlands, check). I'm not at all keen on squat metal shacks with penned-in livestock, stinking tiny calves and dirty rabbits lying in cramped hutches in the dark. I'm sure there's a reason for that kind of farming. I have probably been eating it. Maybe I need to be vegetarian? Don't bother with New Zealand Farm if you share the same preferences.
On the night we arrived, Sunil had spent the whole day farming his own rice paddy. He'd paid people to finish the job so that he could switch to being a driver for us. Sri Lanka's main outcrop is rice, with tea also bringing in the rupees. Tea farms are dotted with the bright saris of pickers. You can buy whole boxes of the stuff and have it shipped home, and you should expect to drink it absolutely everywhere. Orange Pekoe, please.
Heights
Another of my numerous fears, and the prospect of spending approximately half of the trip some 1800m above sea level meant I packed a strip of Xanax. Thanks to our great drivers I didn't need them for the car, in fact the views were delightful, but a waterfall walk didn't go so well. Got halfway to the viewing point then requested to be left to wait, hanging on to the shrubbery on my left and avoiding the drop on the right. After 10 minutes my eyes had convinced me that I was on some perilous ledge, rather than the ample footpath that small children were scampering up and down, and by the time I was collected for the return meagre 20-metre stroll back up to restaurant level, my knees were playing the tom-toms. I really don't need heights. I can see from the car, honest.
Train
Why, then, did the heights on the train not bother me so much? I can't say. The whole three hours was so surreal, surely it wasn't actually me flying through the sky in a weighty blood-red carriage around the very edge of the very top of a massive mountain? I'm a convert, I want to do it again. If you're doing the train, (and I hate the word 'should', but you should), you should make sure that one of your journeys is the route that takes you high up into the mountains and beyond.
Mr PC was distraught when he saw that Gamini had booked us 'First Class' tickets, devastated at the thought of the promised 'butler' coming round and serving us drinks on trays, while air con froze us rigid. No, silly, this is Sri Lanka! And that website must have been written in 1548. First we waited for an hour. Then when the very late train strolled up we had to literally climb up the ladder on the side to get in. There was air con, yes, but it wasn't switched on because the windows had all either been opened or had fallen open approximately 30 years before. Doors also stayed open for a purpose I will outline in a few sentences. What butler? There was a kitchen that looked like one of those Channel 4 programmes: 'Hoarders From Hell'. Mr PC loved it, and made us both a nice enough cuppa in a proper mug, then hung out of the open doorway to drink it.
There were curtains – or had been, once, but I've no idea why the remains were still there. Tattered scraps simply got in the way of people sticking their heads outside, posing for pictures taken by someone else hanging out of the carriage door. A cheeky train guard joined in the fun by pretending to push a tourist out onto the track. Oh how she laughed. No, she really did.
Springs on these trains are as big as a large dustbin, so screaming around tight corners on viaduct bridges with absolutely nothing under you but air – well, that's why those springs are huge. Honks of steam announced us at every station and road crossing. Walkers strolled along the tracks behind us, and when we finally chugged up to our stop in the dark, we had to get off onto the line itself then cross over and shimmy up onto the platform, helped up by fellow waiting passengers.
Our train was so late that the last hour of the journey was sadly in darkness, not sunset as planned, but this simply made it all the more atmospheric, and brought out the carriage's bonkers golden-stencil patterns on the walls. There should have been a detective with a moustache and a 1930s love angst scene. We stopped in the pitch black at one point for a while, engine ticking in the quiet night, crickets chattering. I think there were cows on the line. Quite, quite bonkers and an absolute should-do.
Soundtrack
All the best holidays have one, and ours came from Sunil's collection of 'Best Of' albums all weirdly beginning with the letter B: Bob Marley, Boney M (oh, those Russians), Buddha Bar and Best Deep House. Divine choices for whatever scenery we were passing, which was just as well since we had the whole lot on a loop. I'll leave you with my favourite, which will forever remind me of a series of switchback mountain roads in tea country, through which we cruised gently with Sunil at the wheel, tapping his hands in time. I felt like Bridget Jones before her hair went wrong, and frankly, every girl should be treated to at least one car trip where she feels like that.
I'm so sorry, but there's more. So so much more. I'll do it once I've come down from tea land. I might be some time.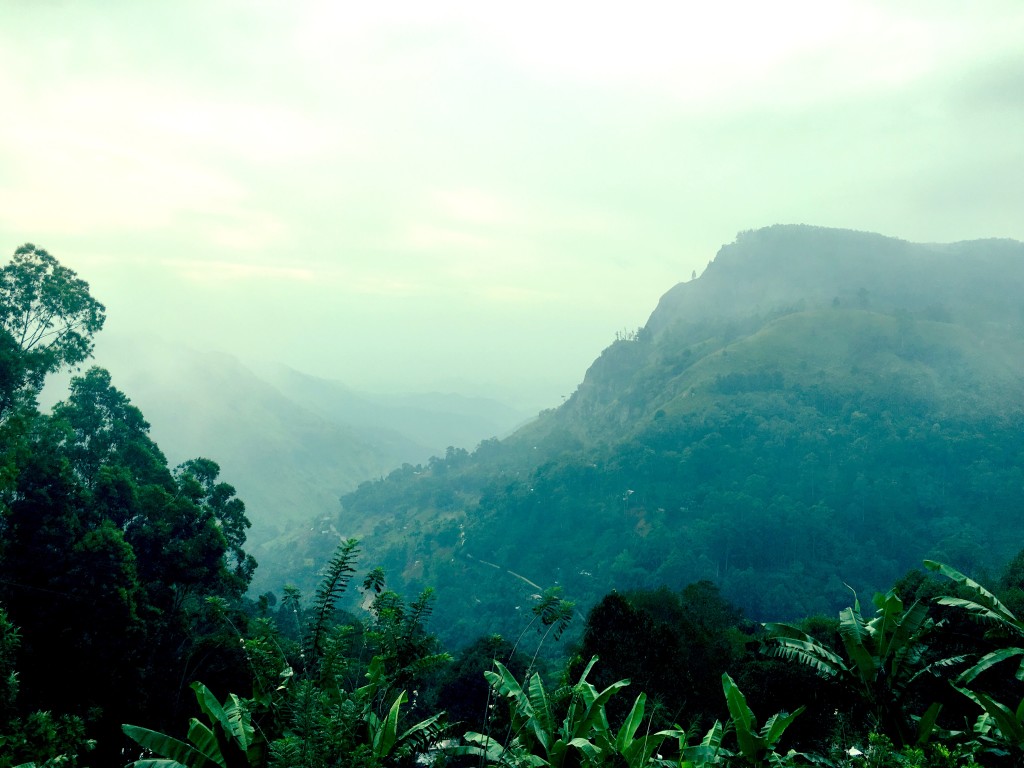 *Just to say it was a very wobbly toilet with a curtain dividing it from the bedroom. I couldn't see my feet in the dark. And a cockroach climbed into Mr PC's washbag and came with us to the next guest house. But, you know – camping!