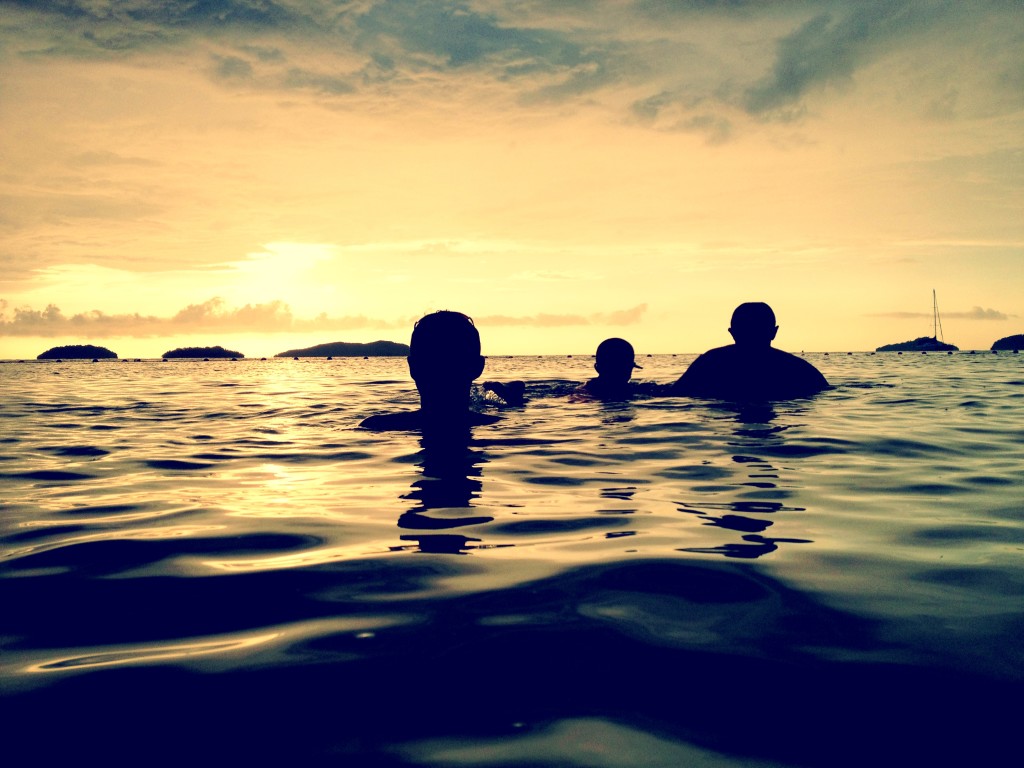 Dad's at the airport, presumably having a cup of tea in the hour he has left before take-off. I had to send him home because my sister's birthday is on Wednesday and we have always been told to share. He's carrying her present very carefully, as extra hand luggage. Meanwhile SmallMonkey lies in bed, refusing to sleep and looking miserable; tomorrow I'll cheer him up with the parting gifts that Grandpa left behind: two Match Attax packs, a packet of Cadburys Animals and a dead flea on a microscope slide. Don't ask.
Goodbyes are just about the absolute worst thing of being out here, an emotional onslaught every single time. That reverse trip to the airport after the reverse countdown of the final day, after the reverse countdown of the past week. Thankfully Mr PC has just booked our tickets back to the UK for a summer break and the thought of seeing Dad again in just two months is a huge comfort. I looked for a picture from last week's Easter Borneo trip to sum him up: this gentle, funny, botany loving, fluffy pillow hating, ignorance loathing, Rendang fancying, bird watching, lizard spotting, plant tickling, uber thoughtful, tirelessly generous, Grandson-adoring, playful family man.
Here is a sunny one, a reminder of our fantastic week in Borneo: my three boys. The only clue as to age is the height of them all. Dad's on the far right, enjoying a relaxing dip in the warm Kota Kinabalu sea after four days of monkey spotting in the jungle. Shortly after this picture was taken, one of us was tickled by a passing jellyfish, and then a venomous sea snake wiggled gracefully past. As the three youngest Cloudies pushed each other out of the way to get back to shore, Dad was taking a deep snorkel breath and finning down to see them up close.
He's like that. Terrorist threats? Big jungle spiders? Planes, trains and rickety tourist vans? Piece of pandan cake. He is enthusiastic and well researched in his approach to travel and he puts us lazy lot to shame in terms of stamina. I won't even talk in terms of generations because they just don't apply to him. Does he know how amazing he is? He must do, but I'm really not sure…
So the spare bed gets packed away and don't set me off again. I won't see him at breakfast tomorrow and I'm planning the day with one less person. The shoe rack is lighter and the fridge now empty of festering specimens. There is one pair of shoes left behind that I've said I'll bring back in June. I could just keep them hostage to make sure he comes back soon. He's on a promise.
Here we go: take-off time. Deep breaths.