A month after our return, time to head back to this very special place for a review. None of the pictures do it credit, none of the words either. This is a proper travel-bore post so no offence taken if you fall asleep or skip it entirely. If you ever get lucky enough to go, though, do it.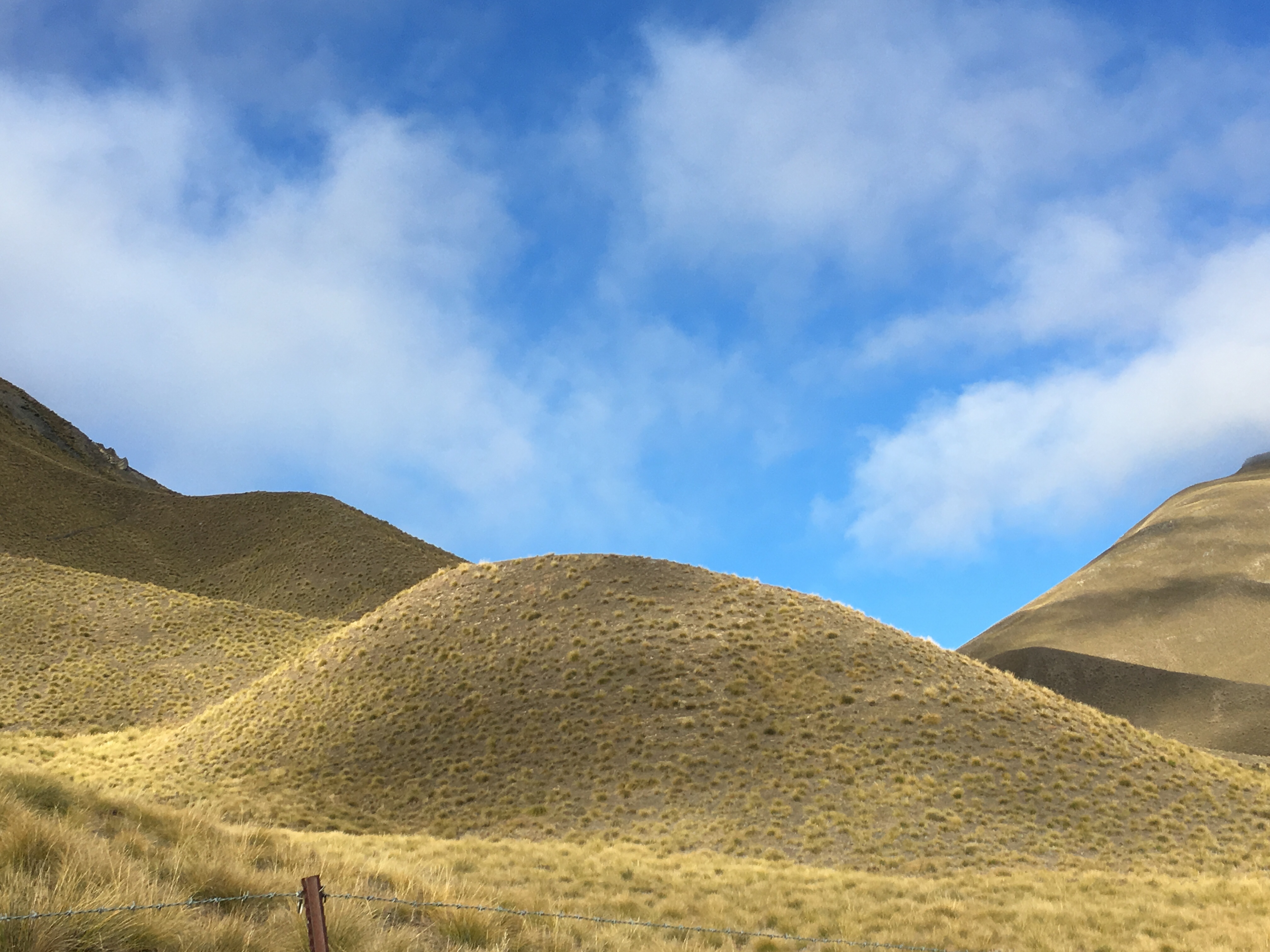 South Island seems to be most people's favourite. I didn't want to be in the majority but I fell in love, and couldn't un-love it. We flew in from the west over the Tasman Sea, having a birds-eye view right down the coast of the long mountain range that is rocked by earthquakes from time to time, white-tipped peaks coming straight down to sea. Our flight landed on the east coast in Christchurch but we wanted to go west, so we hopped straight into a hire car and drove back the way we'd flown, crossing Arthur's dramatic Pass – four hours of vertiginous hairpin bends. By the time Hokitika's wild west coast came into view we were accustomed to road kill, steep drops and hot pies, having picked up a bag en route.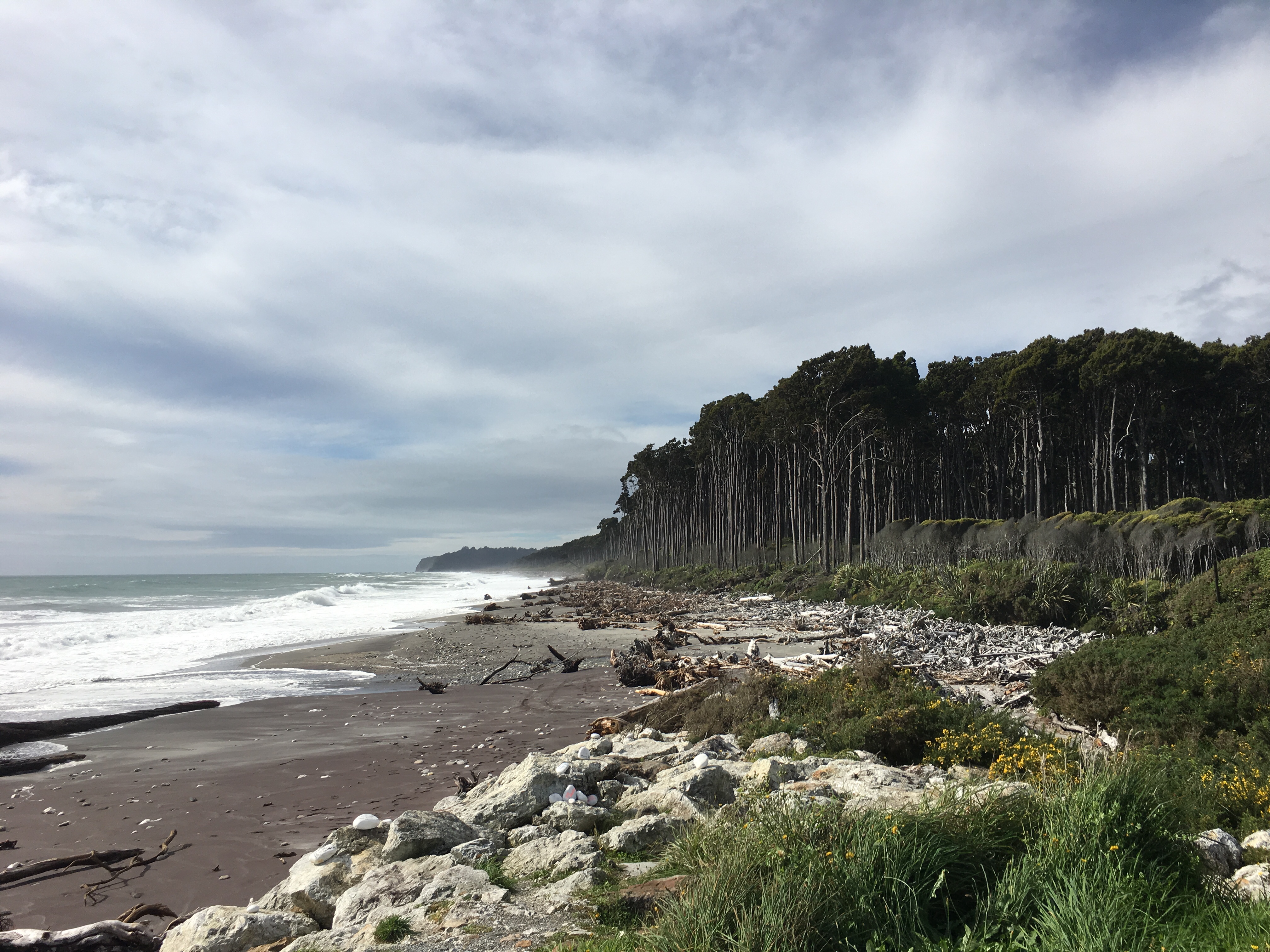 Hokitika A dramatic rolling coastline is the first view you get and it's really this blacksand beach that makes the town, and the famous piles of driftwood, the result of trees that have fallen into rivers during storms, been washed out to sea, stripped to the bone and then dumped back on shore. There's a touch of the Blair Witch about these beach sculptures (some of them man-made); we gave a thumbs-up to all the driftwood fences around town. We grabbed a bag of fish & chips from Porky's, saw a glowworm dell and went to the cool market on Revell Street where the jade for which this town is famous is very affordable. You must, says a friend, buy it only as a gift. Luckily the boys bought me my heart necklace.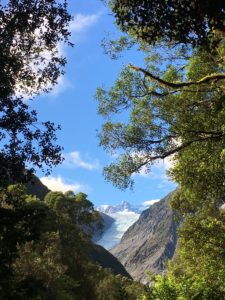 A good way of seeing Fox Glacier, if bad weather prevents the helicopters from dropping you directly onto the ice, is to trek up to the start of one. The last 100 yards to the mouth is a steep uphill scramble past signs warning 'FALLING ROCKS DON'T STOP!', so we didn't. At the top of the clamber, where the start of the glacier is revealed, two women sneakily picked their way across a fence marked 'DON'T CROSS THIS FENCE', and took a few cautious selfies, while Jonah read a small laminated story about a tourist who died after crossing the same fence to take selfies. We loved this one-glacier town, sweeping coastal road cutting through it crossed by ice-blue streams.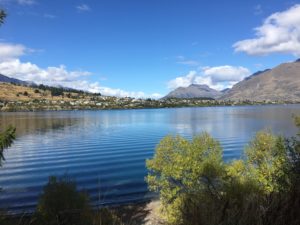 Everyone loves Queenstown, a high adrenaline ski town tucked at the foot of mountain ranges and looking out over a huge lake. Winter was coming when we visited – cafes had baskets of blankets to drape across chilly knees, and all the shops were on permanent merino and possum wool sales. Biking from Lake Wakatipu to Frankton was slow-going thanks to having to stop every few seconds to look at the lake views reflected from every angle. We went on the SS Earnslaw for a chug across the water, a big steamer with a café selling hot chocolate.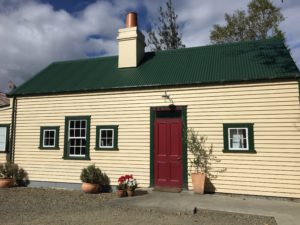 In nearby Arrowtown, which once had gold in them there hills, we loved the autumn leaves against white picket fences, old Chinese quarter and lolly (sweets) shop, and lunch at the Fork & Tap pub, where a woodburner kept us cosy. Back in Queenstown it seemed rude not to try a Fergburger, well worth the 45-minute street queue just to pull one of the massive burgers out of the bag (big as your head).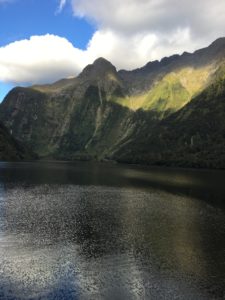 The journey to Doubtful Sound is as much a part of the trip as the voyage itself. We drove from Queenstown to Lake Manapouri (two hours), took a boat across the lake (one hour), rode in a special bus across the built-for-trade Wilmot Pass (40 minutes) to a little quay where we boarded The Navigator. From getting on the shuttle boat the cruise takes 24 hours and food was a big part of it – we took a packed lunch for the journey but once on board there was gorgeous soup, hot muffins, a big buffet dinner and a big buffet breakfast plus a well-stocked bar which we tucked into. As a result of that bar I inadvertently missed the fascinating nature lecture from roving naturalist Carol (who pops up in various locations around the boat to give out top tips and little talks as you pass down the Sound). She was priceless and really made the trip for us. 'Last time I came on this boat,' a nice woman told me, 'I got everyone clapping to attract the dolphins'. I told Carol and she wasn't impressed. She said: 'We will see the dolphins if they happen to be in the area, they're not performing monkeys'.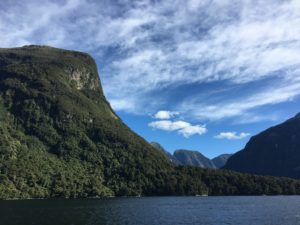 The dolphins did pop up in the end, treating us all to a last-minute and very wonderful sighting about half an hour before the end of the cruise. So many perfect moments – sailing up one of the 'arms' (side inlets) to moor then jumping off the side (COLD); being taken a small way out to sea (which they can't always do) to watch the sun set over a rock full of seals; falling asleep in our tiny bunk cabin with its waterline window; being told to find a spot, stay still and just listen as Captain Glen cut the engines for a full ten minutes of silence. Best. Sound. Ever.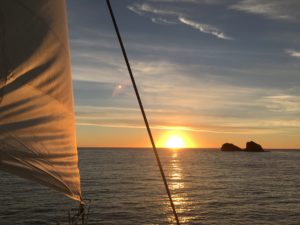 Te Anau. A small town with, guess what, a lake. Also an amazing glow worm cave, which is why we made the stop-off. Behind our tiny box hut we found an eerie woody walking trail (Blair Witch again). We fell into the local pie shop for lunch without realising it was the world-famous Miles Better Pies. The night-time glow-worm cave trip ticked off two of my phobias, the dark and small spaces. Not only must you become dwarf-height for the 200-metre entrance crouch, you must then sit on a wobbly metal boat in the pitch black and stay quiet while your guide pulls you through the cave on a boat rope. But then the ceiling glows as you pass under clusters of tiny sparkling worms and oh my stars… worth every claustrophobic minute. Lost my beanie in the clamour to get out but gained a hot chocolate in the café. Every cloud has a glow-worm lining.
Lake Wanaka Didn't think we could top Doubtful, then pulled up to this stunning town set on a, guess what, lake – far too early to get into our hut so immediately hired bikes. Pedalled up the road then took a right towards said lake, and promptly burst into tears. I don't want to come over all Pseuds Corner, but oh, the lake, the views. I just can't… There aren't even pictures to express the beauty. Oh, that lake.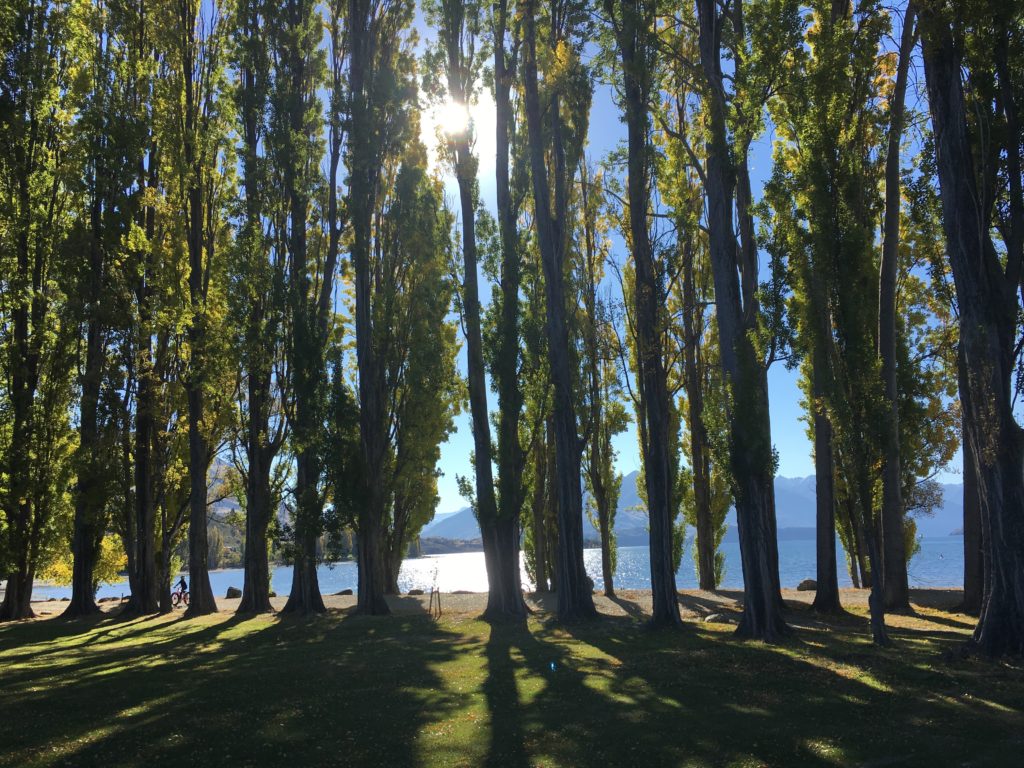 Mount Cook An alpine, white-topped, chocolate box of a mountain framed gloriously by icy blue autumnal skies. The road approach is long and gives big expansive postcard backdrops as you drive all the way up Lake Pukaki.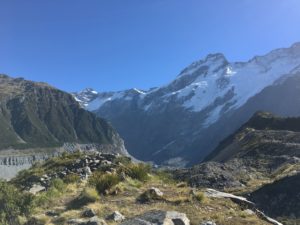 Good views also come from the Hooker Trail, a 45-minute footlands scamper across gorse and rock to the glacier opening. I stopped to sketch while the boys crossed a swing bridge, and they returned just in time for us all to see a chunk of snow break off and rumble to the ground, about half a mile from where we were. And again, and again. We hoped it was down to the bright sun on that day, and not an ominous general thaw.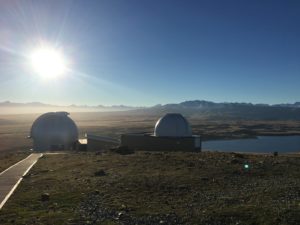 Lake Tekapo Observatory is at the mountain-top end of a one-road-in-and-out track, a cluster of lunar white-domed buildings on the top of stony yellow ground looking down over another big, yep, lake. We stopped for a hot chocolate (what? New Zealand does really good hot chocolate, OK?) but didn't take the night tour – as the moon was so bright, star-spotting would be half obscured. Just look up at the night sky, they said, so we did, after joining hundreds of people for a stunning lakeside sunset with pink moon rising. Yes, it was very starry, but cold, so our meandering night walk was cut short. The cold could also account for the sudden jump in percentage of merino and possum sales on the small high street. We bought, and were thankful.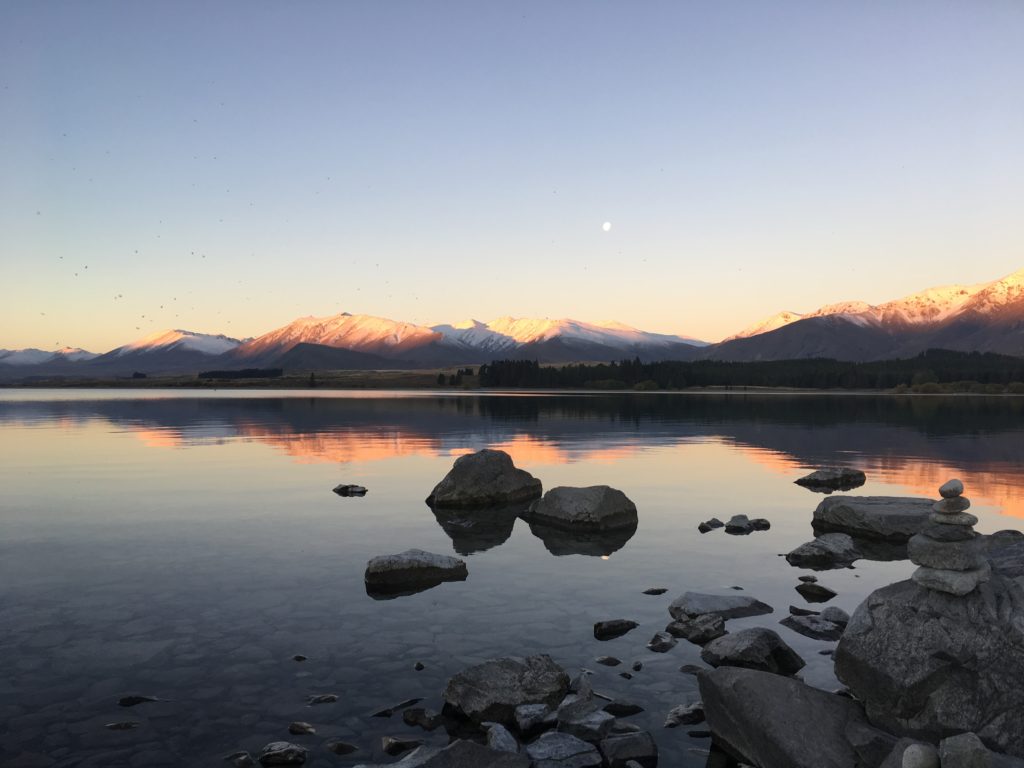 Everyone gets the ferry between South and North Islands but to save time, we flew. This meant spending a large part of the day at Christchurch Antarctic Centre but it's not a bad place to freeze away the hours, being suitcase-pushing distance to the airport (drop off the hire car, get a lift or shuttle to the Centre then walk across the car park to Departures). We hung out for three hours at the 4D cinema, chill room (takes you down to -18C in a howling gale), very adorable penguin sanctuary and mock explorer rooms. Great fun! Bought beany hats and hot chocolate.
Up when I can find the words: North Island